A family in Texas discovered an unwanted visitor outside their home thanks to their doorbell camera.
On Dec. 29, Jessica Carlsen, the homeowner, received a motion alert notification from her Ring camera and decided to take a look at what had activated it.
The camera had detected the movement of a bobcat sitting on top of their fence outside the garage (SEE THE VIDEO at the top of this article). 
MISSING NEW YORK CAT ACTIVATES HER FAMILY'S RING DOORBELL: 'WE ALL JUST SCREAMED'
"I was terrified and didn't leave my house that day," Carlsen, a resident of Frisco, said. 
"I wasn't sure if there were multiple bobcats or just one."
Carlsen continued to be on the lookout for any activity after the incident.
The next day, the bobcat had returned to the family's home, but this time it was not alone.
MASSACHUSETTS DOG WALKER SURROUNDED BY PACK OF COYOTES: HOW TO KEEP KIDS, DOGS SAFE
The two bobcats visited the family's yard for days, according to Carlsen.
The homeowners said have not seen or reported any recent activity from their feline neighbors.
The Colony, a Texas government site, said that bobcats do not attack people – however, small pets may be at risk. Always walk your dog on a leash and avoid leaving pets unattended outdoors, according to the organization.
"I wasn't sure if there were multiple bobcats…"
In-Sync Exotics, a wildlife rescue and educational center, advises that if you see a bobcat, the best thing to do "is to leave them be."
CLICK HERE TO SIGN UP FOR OUR LIFESTYLE NEWSLETTER
In order to avoid the "welcoming" of bobcats into your neighborhood, experts encourage homeowners to not make their home an inviting place.
"Don't leave your pet's food out, pull in the bird feeder, and don't leave scraps in outside trashcans," In-Sync added in a news release.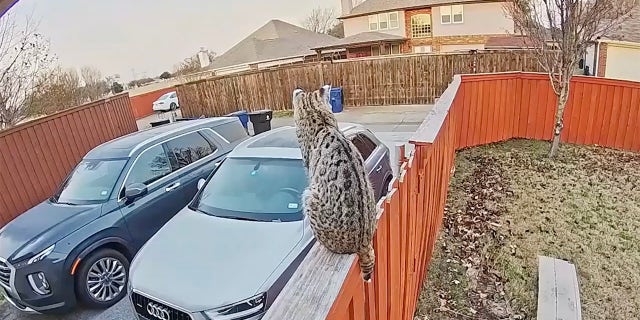 "I love having my Ring cameras around my house, as well as the security system," Carlsen told Ring in a statement released to Fox News Digital.
"It definitely makes me feel safer."
CLICK HERE TO GET THE FOX NEWS APP